What is menstrual precariousness?
Menstrual precariousness in the world
On average, women periods 5 years, 9 months and 1 day throughout their lives.
Obviously, menstruation requires the purchase of pads, tampons, menstrual cups and panties, which are not considered basic necessities (such as bread, water, oil and soap).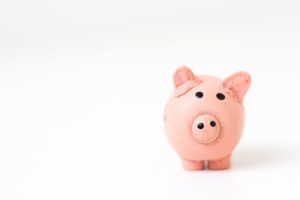 According to a British study conducted by VoucherCodesPro.co.uk, the annual budget devoted to the purchase of periodic comfort products would be £492.
That is to say an amount of 20 410€ for the whole life of a woman.
This budget concerns not only the purchase of pads, tampons, cups … the basis to live this period safely! But we, the women of the 21stcentury, also need :
Drugs to relieve awful pain.
New underwear, to replace our panties stained by blood spills.
Candies, chocolate, ice cream …because yes, we need to comfort ourselves as much as we can.
And some wellness products(cosmetics, decorative objects, plaid, kettle …) to live this often painful period as well as possible.
500 MILLION women in the world are in menstrual precariousness
As you will have noticed, this budget is very large and many women cannot afford such purchases. In 2019, 500 MILLION women will be unable to meet their periodic needs (source Figo).
Fortunately, some countries are beginning to take an increasing interest in this topic.
In 2018, the Scottishgovernment set up a program to provide free periodical protection to the country's 395,000 students (source: Le Monde).
Also in 2019, England, Wales, Canada and South Korea actively participated in this fight against menstrual precariousness by distributing free periodical protections in schools and universities (source Libération).
Menstrual precariousness in France
In 2019, 1,700,000 women will not have access to hygienic protection in France (source: règles élémentaires).
Homeless, incarcerated, finding themselves in a precarious situation with a limited budget or because of their student status, too many women are forced to be unable to buy tampons, pads or menstrual cups. Prison inmates had limited access to sanitary safeguards.
Products within the prison administration are sold at three times the priceof what is usually found in supermarkets.
How do these women do it?
"Toilet paper, newspaper, pairs of socks, plastic bottle caps cut out by hand … ".
If some women make up for the lack of means by being inventive, the alternatives found obviously remain. not adapted and jeopardize their health. As menstruation becomes a real handicap, some women are even deprived of schooling or work (source: IFOP Dons Solidaires).
Not having recourse to hygienic protections impacts self-esteem that can lead to social exclusion. Indeed, according to the study conducted by "Dons solidaires", hygiene and appearance are two determining criteria in the judgment of the other. "For 17% of the beneficiaries of associations, personal hygiene is identified as a source of discomfort and negative judgment".
It is in February 2020 that Marlène Schiappa and Christelle Dubos welcome the report about the taboo of rules in our society.
This report makes the fight against menstrual precariousness and access to hygienic protection for all a priority. It announces the experimentation, starting this year, of free hygiene protection in several collective places (source: solidarité-santé.gouv).
Sources :
Dons solidaires, Press Release, 2019.
Ifop, Dons solidaire, February 2019.
Available at : https://www.donsolidaires.fr/wp-content/uploads/2019/03/Pre%CC%81sentation-IFOP-Dons-Solidaires.pdf
Solidarités-santé.gouv, précarité menstruelle expérimentation de la gratuité des protections, 2020.
The fight of the association "Règles élémentaires"
Because every woman should live her menstrual period with dignity,Claripharm has decided to support the fight of the association Règles élémentaires which militates for this cause affecting so many women.
Who is the "Règles élémentaires " association?
In November 2015, Tara Heuzé-Sarmani founded the association Règles élémentaires. Today it is the first association to fight against menstrual precariousness in France. Its objective is to collect intimate hygiene products for women in need and to break the taboo of menstruation.
Since its creation they are :
1,500,000 periodic protections collected
50,000 beneficiaries
1,000 collections organized with 200 French partners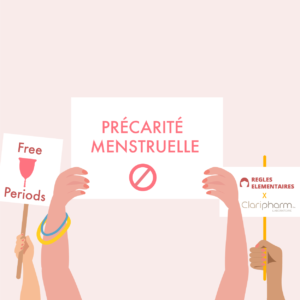 The association has created a citizen platform to enable everyone to take action to fight against menstrual precariousness.
By going to the website you can ask to receive personalized communication visuals and even a donation box. These boxes can be placed in a building entrance, at the office … and everyone can offer whatever they wish to give a woman in a precarious situation the chance to receive periodic protection.
What are Claripharm's actions?
If every woman deserves to be able to menstruate safely, Claripharmhas made the decision this year to commit to donating to Basic Menses every year. Last month we sent nearly 400 menstrual cups to the association in order to improve the lives of women in precarious menstrual situations. Thanks to this device they can be protected for a period of 3 to 5 years.
Want to know more about the Association and actively participate in this fight against menstrual precariousness? Go to the website: www.regleselementaires.com