Internal hygienic protections: "inserted in the vagina", such as tampons and menstrual cups, have been the subject of analyses by the ANSES (Agence nationale de sécurité sanitaire de l'alimentation, de l'environnement et du travail) for several years.
In 2019, the DGCCRF (Direction générale de la concurrence, de la consommation et de la répression des fraudes) carried out a new investigation in the periodic protection sector.
During this survey, 19 references were analysed (tampon and menstrual cup).
These products are subject to the general provisions of the consumer code, in particular the general safety obligation.
In particular, manufacturers must :
Provide clear information to users to enable them to use them safely.
Ensure the safety of the products (composition, manufacture).
In addition, further analyses were carried out on 9 product samples to verify the absence of release of chemicals of concern, such as phthalates and other plasticisers. Its substances can pass into the body via the vaginal mucosa.
What about tampons?
Buffers may contain toxic substances such as dioxins, furans and phthalates (DnOP).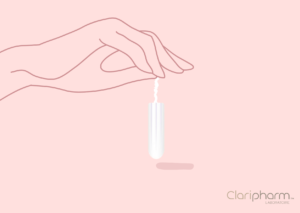 According to tampon manufacturers: "substances detected in intimate protection are not added intentionally".
They would then be :

From contamination of raw materials(or finished products),
Formed during manufacturing processes (e.g. bleaching, gluing).

According to ANSES :

Today, the cellulose used in these products can be bleached in certain processes using chlorinated agents, such as chlorine dioxide. This would be the cause ofthe formation of dioxins and furans.
Environmental contaminationcan also lead to the presence of undesirable substances such as pesticides (e.g. glyphosate), dioxins and furans in buffers.

A number of substances found in these intimate protections are suspected endocrine disruptors, known or suspected skin sensitizers. (DnOP, dioxins and furans).
What about menstrual cups?
In 2019, the SCL (Service Commun des Laboratoires) carried out tests on 9 references of menstrual cups available on the French market. According to the results. No phthalates or plasticizers have been quantified.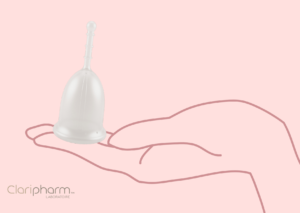 RESULTS
ANSES considers that the concentrations of undesirable chemical substancesfound are not likely to present a health risk (because its substances were present in very low concentrations and without exceeding health thresholds).
No real link has been established between the presence of these substances and the appearance of the toxic shock syndrome that can occur during prolonged use of these internal hygienic protections (tampons or menstrual cups). However, other long-term consequences are envisaged.
In its conclusions, the DGCCRF deplores the lack of informationand sometimes false informationgiven to users on the conditions of use of internal protection, which can generate a serious risk of toxic shock.
Indeed, some products claim upto 12 hours of use, or no limit at all. Based on test results, the ANSES sets a safety limit not to be exceeded between 6 and 8 hours.
What about the Claripharm Laboratory?
At the Claripharm Laboratory we design intimate hygiene products for women. Notably menstrual cups, in accordance with the most demanding international regulationsin order to offer the healthiest products possible. This is because inEurope there are no specific regulationsfor internal hygiene protection.
Thus, our products are analysed in terms of :
– Extractables: chemical substances that are potentially harmful to health,
– Stability in use,
– Use Time Validation.
The cases and leaflets (included in our products), contain all the information concerning the good practices of use and the toxic shock syndrome, in order to inform you as well as possible.
Following the test results, our Laboratory recommends a wearing time of 6 hours for the menstrual cup, as the risk of developing TSS increases with the length of time the internal protections are worn.
The information we provide you with is therefore in accordance with the recommendations published by ANSES.
Source :
ANSES (Agence Nationale de Sécurité Sanitaire de l'Alimentation, de l'Environnement et du Travail. Safety of intimate protection products. Revised opinion of the Anses. Revised collective expertise report. December 2019 – Scientific edition. Saisine n° 2016-SA-0108. 23 December 2019. 294p.