Officially, 1 woman out of 10 would be affected by endometriosis. This disease is very painful and incapacitating and has a considerable impact on the quality of life of women. It is for these reasons that I would like to share with you some natural solutions to alleviate and relieve the symptoms of the disease, via alternative medicine.
Endometriosis is a chronic gynecological disease that affects women of childbearing age. It is linked to menstrual cycles (menstruation and ovulation). The disease affects at least 14 million women in Europe. The resulting infertility affects 40% of women suffering from endometriosis and the average recurrence rate after surgery is 20% at 5 years.
Although there has been little research on this disease in France, recent studies show that endometriosis mainly affects women who are deficient in trace elementsand who have been exposed to endocrine disruptors for a long time. These elements would explain the dysfunction of hormonal functions in women, and the overproduction of estrogen, at the origin of the symptoms.
Today, endometriosis is no longer classified by 4 stages, but by 3 types:
Superficial (or peritoneal) endometriosis
Ovarian Endometriosis
Deep pelvic (or subperitoneal) endometriosis
A DELOCALIZED ENDOMETRIUM
The endometrium is the tissue that lines the uterus. During the cycle, it thickens and if there is no ovulation, it disintegrates and bleeds: this is the period!
In women with endometriosis, endometrial cells can migrate through the tubes and colonize nearby organs. This will then createinflammation and cause severe pain. Moreover, this phenomenon will lead to digestive disorders, physiological dysfunctions in the body, such as irritable bowel syndrome, also called functional colopathy, among others.
What are the symptoms of endometriosis?
The symptoms and complications of endometriosis are painful and disabling and should not be ignored.
Here is the list:
Severe pelvic pain
Digestive problems (slowed digestion)
Transit disorders (bloating, constipation, etc.)
Dysmenorrhea (Abdominal cramps)
Metrorrhagia (bleeding between periods)
Cruralgia (pelvic pain radiating to the legs)
Dyspareunia (Pain during intercourse)
Hematuria (presence of blood in the urine)
Rectorrhagia (Blood flow from the anus)
Repeated miscarriages
Fertility problem
Sterility
You can learn more by reading the article "The symptoms of endometriosis".
Endometriosis: what treatment?
Endometriosis is still struggling to be recognized in our country because it is not taught in medical schools. Doctors are not sufficiently trained on the issue, which explains the lack of information and management of the disease in France. It is important to know that women wait an average of 10 years for a diagnosis!
The only test that can really diagnose endometriosis is laparoscopy. Ultrasound and MRI, which are often prescribed, prove to be unreliable in identifying this disease. This is why laparoscopy is indicated when previous examinations have not allowed a precise diagnosis.
There are 2 kinds of treatments for endometriosis proposed by traditional medicine (known as "allopathic"), which combines:
As a preventive measure
Heavy medication treatments, such as progestogen pills, which cause side effects such as mood swings, hot flashes, weight gain, water retention… and in rare cases, early menopause and meningiomas (meningeal tumors).
In curative
Invasive surgical techniques, such as uterine curettage and sometimes total removalof the uterus.
Currently, there is no medical treatment to cure endometriosis.
10 NATURAL TIPS TO RELIEVE ENDOMETRIOSIS
Because the disease is poorly recognized and misdiagnosed, women suffering from endometriosis quickly find themselves isolated with their pain and sometimes even unable to work. This affects their social life and significantly degrades their quality of life.
However, natural solutions do exist to reduce symptoms, relieve pain and stabilize the disease.
Here are the top 10 tips you need to know to live better with endometriosis.
1# MAKE A DETOX CURE
Start with a detox cure with organic desmodium, which will allow the liver to eliminate toxins and heavy metals, responsible for the inflammatory terrain of the disease.
2# AVOID ENDOCRINE DISRUPTORS
According to the WHO (World Health Organization), endocrine disruptors are chemical molecules that interfere with the endocrine system. They are at the origin of the hormonal disorders of the woman. They are present everywhere, in non-organic food, in plastic in all its forms, in some hygiene products, cleaning products …
Here are some of them
Pesticides
Parabens
Bisphenol A (BPA)
Phtalates…
Recent study shows correlation between endocrine disruptors and the development of endometriosis.

It is important to carefully choose the products we consume using an application like Yukafor example, to avoid ingesting or facing these endocrine disruptors.
3# ADOPT AN ANTI-INFLAMMATORY AND ANTI-OXIDANT DIET
Diet plays a major role in endometriosis. An adapted diet is essential!
According to scientists, the Mediterranean diet is the healthiest in the world. This diet is rich in fruits and vegetables, whole grains, legumes, fish, nuts, olive oil and spices.
Thanks to its high content of vitamins, minerals and omega 3... the Mediterranean diet is considered an "alicament" (food whose explicitly formulated composition implies a beneficial effect on the health of the consumer).
Combining natural anti-inflammatories and anti-oxidants, the Mediterranean diet will protect your body from free radicals, also called "oxidative stress", which is a vector of many chronic diseases, including cancer.
4# MAKE A HAMMAM
The hammam combines heat and humidity. It allows the body to sweat and relax the muscles. Perfect to eliminate toxins and avoid menstrual cramps.
5# TRY ACUPUNCTURE
Acupuncture comes from Chinese medicine which has existed for 4000 years. It is a technique that is practiced with micro needles that are placed at the nerve endings. This therapeutic process produces an effect similar to a general anaesthetic by releasing tension and blockages in the body. This creates an overall soothing and relief of pain.
Attention
To be practiced once a week for an optimal result and make sure that the rules of hygiene are well present.
6# TAKE HOMEOPATHY
Homeopathic medicine, "uterine" by Boiron. Available in pharmacies, in tubes, granules, or doses.
Here are the references
4CH
5CH
7CH
9CH
12CH
15CH
30CH
7# LIMIT YOUR CONSUMPTION OF STIMULANTS
Coffee and tea, containing caffeineand theine respectively, are known to aggravate inflammation.
It is thus advised to limit its consumption at the approach and during menstruation, but also during the period of ovulation. (14 days after the 1st day of menstruation for 5 days).
Prefer adapted infusions, such as: Female balance of yogi-tea and/or infusions with camomile, organic.
8# THINK ABOUT FOOD SUPPLEMENTS
1 woman out of 4 would have deficiencies in magnesium (mainly B6 and B9), iron, selenium and iodine, especially after age 45. Selenium and iodine are the 2 most important trace elements in the thyroid function, which controls the hormonal activity of women. As these needs are not met by the diet, it is recommended to compensate for this deficit by supplementation. (Have a blood test done to find out your iron levels, with your general practitioner).
For the rest
For good health: Marine magnesium
Against inflammation: Organic Curcumin
For menstrual syndrome: Claricycle by Claripharm

9# USE AROMATHERAPY
Essential oils are present in plants called "aromatic". To choose always virgin, of first pressure in cold and organic. You can use them in massage or in cutaneous application, (to dilute in a little vegetable oil).
Here are the 4 essential oils best suited for endometriosis
Nigella oil (or black cumin)
Anti-inflammatory, immuno-stimulant and anti-microbial.
Yarrow (Achillée Mille-feuille)
Decongestant for the uterus.
Le Gattilier
Phyto-estrogenic, for progesterone.
Clary Sage from Provence
Phyto-estrogenic
Attention
Not to be used by pregnant or breastfeeding women or children.
Do not use on people who are photo-sensitive or prone to skin reactions
Do not use if you have a history of hormone-dependent cancers (breast, ovary or endometrium)
Avoid contact with the eyes
10# PRACTICE A RELAXING PHYSICAL ACTIVITY
The benefits of physical activity and relaxation have already been proven. Regular practice of even moderate physical activity would reduce mortality and increase quality of life. To take it easy, opt for yoga, stretching or swimming.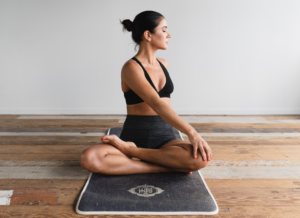 Are you wondering how to take care of your vaginal flora?
We tell you everything in the following article: "

4 tips to balance your vaginal flora

"