The vaginal balance is characterized by the presence ofa beneficial microbiota protecting the vagina. In this article, you will discover our 4 tips to bring a bettervaginal comfort.
1# Why take probiotics?
First of all, natural Lactobacilli or administered in the form of probiotics,can establish a vaginal balance by killing microbes and many types of pathogens with lactic acid.
In addition, they can also release other antimicrobial factors such as bacteriocins and antibodies.
Indeed, recent studies show that lactic acid is a major antimicrobial factor produced by Lactobacilliand has important antimicrobial, antiviral, and immunomodulatory properties (Tachedjianet al., 2017).
Other studies have proven the beneficial effects of consuming lactobacilli such asLactobacillus paracaseis on the vaginal flora.
#2 Dairy products improve vaginal balance
On the other hand, a clinical study showed that the ingestion of yogurt containing lactobacillus strains for 4 weeks, compared to taking antibiotics alone, improved the recovery rate and symptoms of bacterial vaginosis.
More simply, dairy products improve vaginal microbiota(Laueet al., 2018).
3# Why consume lactic acid-based food supplements?
Also, in the case of infections, clinical studies also indicate that intravaginally administeredlactic acid may have a positive effect on the resolution of symptomatic bacterialvaginosis (Tachedjianet al., 2017).
4# Use anintimate shower gelwith a physiological pH to respect the vaginal flora
Finally, the daily use of an intimate shower gel with a physiological pH (acid) allows to balance the pH of the intimate area and thus to preserve the good vaginal health.
OurClarigyna™ intimate shower gelhas been specially formulatedto respect the vaginal flora. Designed specifically for intimate areas where the pH is different from the rest of the body, the Clarigyna™ has aphysiological pH (5.5) adapted to this part of the body. Its formula has been validated by experts in women's health and tested under dermatological and gynecological control.

TheClarigyna™ is paraben-free, dye-free, fragrance-free, SLS-free, and soap-free.
Indeed, soap, with its alkaline pH, tends to irritate the mucosa by cleaning it too aggressively.
In Clarigyna™, the cleansing effect of soap is replaced by surfactants, very gentle foaming agents, which capture impurities present on the skin's surface.It therefore cleanses without irritating.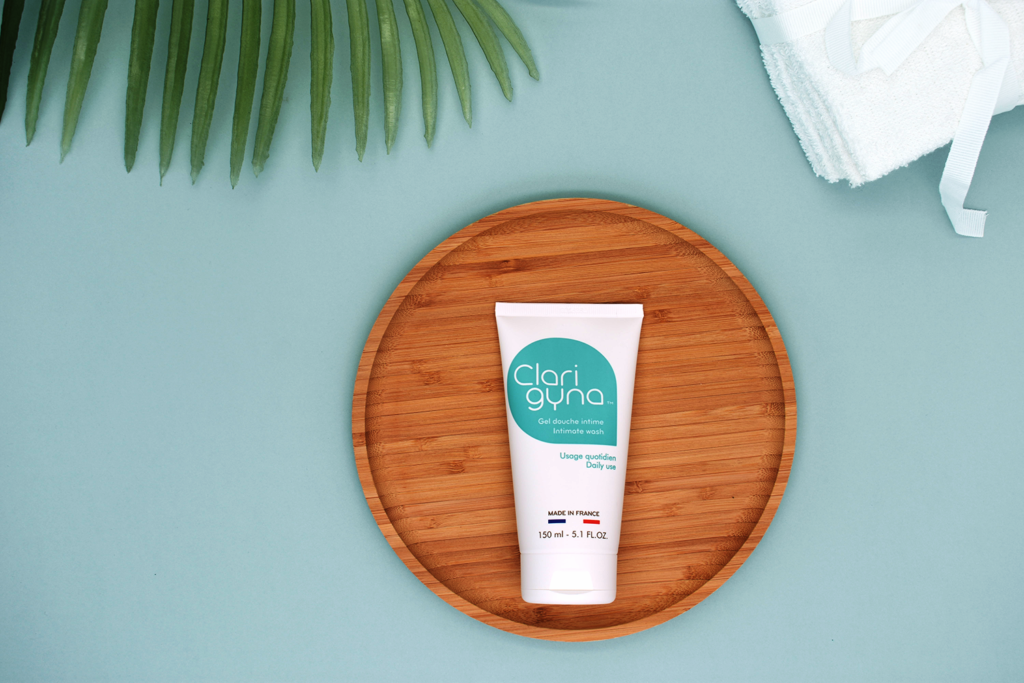 Sources :
Laue C, Papazova E, Liesegang A, Pannenbeckers A, Arendarski P, Linnerth B, Domig KJ, Kneifel W, Petricevic L, Schrezenmeir J. Effect of a yoghurt drink containing Lactobacillus strains on bacterial vaginosis in women – a double-blind, randomised, controlled clinical pilot trial. Benef Microbes. 2018 Jan 29;9(1):35-50. https://pubmed.ncbi.nlm.nih.gov/29065710/
Tachedjian G, Aldunate M, Bradshaw CS, Cone RA. The role of lactic acid production by probiotic Lactobacillus species in vaginal health. Res Microbiol. 2017 Nov-Dec;168(9-10):782-792. https://pubmed.ncbi.nlm.nih.gov/28435139/