How do I use my Claricup menstrual cup?
Sterilize, clean your hands,
fold and insert
You carry your cup in peace and quiet for 6 hours.
Wash your hands, remove your first cup and use the second cup.
Here we go again for 6 hours!
HOW TO CHOOSE THE RIGHT SIZE?
Don't forget, if the size doesn't fit, we'll send you a new one.
Still hesitating? Write to us at: contact@claripharm.fr
Because intimate hygiene products do not follow the same regulations from one country to another, our Claricup menstrual cup is a medical device that meets the strictest international quality standards: ISO 13485:2016, FDA, KFDA, and MDSAP USA / Canada / Australia & Brazil.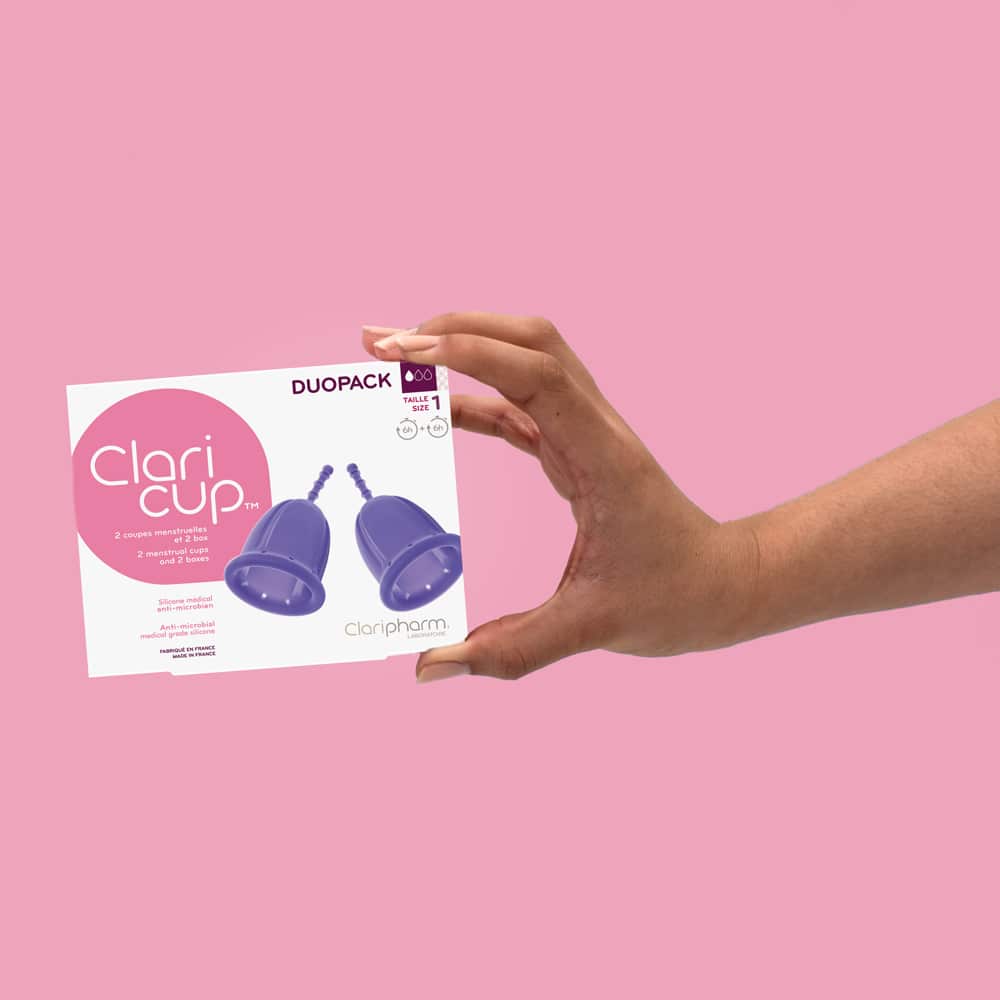 Microwave cleaning remains to be mastered, as the water overflows…
Very satisfied, much better than my old Cup! Easy to insert, good hold. Pleasant material.
The Claricup is easy to use with its sterilization box. I have been used to cups for several years and I find it really handy.
It would be interesting to explain in your leaflet that the cut can be positioned naturally higher than in your descriptions, depending on the anatomy. And explain how to remove it in this case (otherwise it can be a bit acrobatic the first few times ;-)).
Very happy with the purchase.
I tried 2 other cup brands before this one. I always had deployment problems and I had to put a towel on top of it. After my first test cycle with this cup, I am really very satisfied. The deployment is going very well! And above all very practical, this little box to put in the microwave for disinfecting and to take everywhere. I recommend it! And especially for beginners
FREQUENTLY ASKED QUESTIONS
How long does a menstrual cup last?
We recommend a use of your menstrual cup from 3 to 5 years. Beyond this time, you expose yourself to the risk of damaging the silicone.
Can I use a menstrual cup during intercourse?
We do not recommend wearing a menstrual cup during sexual intercourse with vaginal penetration.
Can I use a menstrual cup if I am a virgin?
Yes, if you are a virgin, you can use a menstrual cup. You should be aware, however, that inserting the cup could break the hymen.
Nevertheless, according to medical standards, virginity is not defined by the state of the hymen, one remains a virgin until the first sexual intercourse.